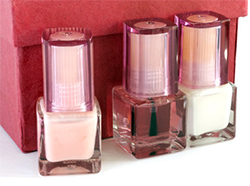 Freebie Alert!
KM Nail Manufacture is giving away some free french manicure sets on their facebook page. These little kits included a base/topcoat, a sheer pink and a french white for tips. There are also some tip guides sticker guides included.
Interested? Just click right
here
and sign up.
And just so you know, Obviously, I cannot guarentee 100% that this is spam free, but there are people who have claimed to have received it, plus it doesn't ask for anything more than a shipping address. I wanted to share this with you because I think this is a great freebie for us nail junkies, and I know I am eagerly awaiting mine.
Again, get them on their facebook page
here
.